Last Update: February 24, 2014
Archive 2013

Welcome to the Addiction and Art Website
2013 Home Page Archive
This page contains news items issued in 2013.
Addiction Art Concept. Recent scientific findings have proven addiction to be a disease of the brain, affecting both brain and behavior. Addiction Art has the potential to take this message to the masses, most of whom still consider addiction to be a "weakness" or "moral failing" worthy of punishment. It can convey the human experience of addiction in a way that can help the general public understand addiction as a preventable and treatable chronic disease. Artworks about addiction and recovery can stimulate dialogue, can teach, and at this crucial point in history, can support contemporary scientific research for our world's well-being.
Addiction Art Downloads. This site provides free images for download relating to addiction and recovery. These works are available for use by schools, drug treatment centers, community organizations, addiction science professionals, medical professionals and the general public. These images are generously donated by artists to be shared for the good of mankind.
Addiction Art Exhibitions. Over the past several years Addiction and Art Exhibitions have been held at both professional substance abuse conferences and in local communities. All of these exhibitions have been enormously well received and extremely successful. This site exists to promote the continuation of the Addiction and Art project through the sharing of past exhibitions, providing guidelines for future ones, and offering opportunities for communication and networking.
Addiction and Art Book. Inspiration for the site comes from the book, , Addiction and Art by Patricia B. Santora, Margaret L. Dowell ( www.addictionandart.org editor), and Jack E. Henningfield.
The Johns Hopkins University Press has issued a discount for purchase of the Book.
Click here to download the discount PDF
---
Another Art Recovery Story
Nancy Guppy, Host/Producer of "Art Zone" - a Seattle Channel Series presents a marvelous segment on artist Kelly Lyles. Lyles is a representational painter and car artist who has been in recovery for 25 years. This video gives a glimpse into her artworks about the 12 steps and her current series, Candy Land, which addresses a candy addiction. We are honored to post this video to introduce our visitors to the positive, funny and joyful spirit that is the productive artist, Kelly Lyles!
Kelly Lyles' work in the addictionandart download gallery HERE
Our thanks to Seattle Channel(cable 21) and Nancy Guppy for sharing this video.
2/11/2013)
---
News and Announcements
---
Flight Above Addiction: Destination Santa Maria, California
Safe Launch, a addictionandart.org partner, flies a plane to communities to incorporate an art activity with important addiction and recovery information. Check out the video from their latest stop: HERE
(12/5/2013)
---
Addiction Awareness Through the Arts: Malaysia
Psychology students from HELP University recently held an addiction awareness campaign in conjunction with HELP World Mental Health Day 2013 at Viva Home Shopping Mall in Jalan Loke Yew, Kuala Lumpur. "Live" art exhibits accompanied stage performances and more. Read about their wonderful efforts HERE.
(11/15/2013)
---
Collier County Sheriff's Office
Hosts Addiction and Recovery Artwork Display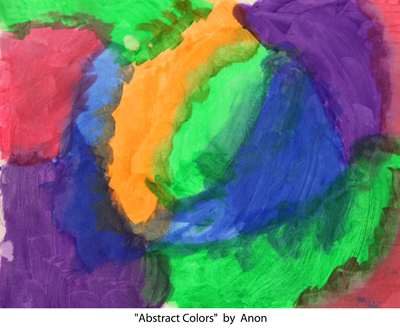 The Collier County Sheriff's Office in East Naples, Florida hosted a display of artworks by clients in the David Lawrence Center Crossroad Program. The exhibition ran from July 25 - October 25, 2013.
Read more about the show HERE
(10/19/2013)
---
Addiction and Art Exhibitions on the Rise
One of the goals of the addictionandart.org website is to encourage communities to host Addiction and Art Exhibitions. Past exhibitions have been extremely well received and successful. We have "How To Hold an Addiction and Art Show" instructions on our site and we post notices and documents of shows. Our show archives to date include 16 community shows in 7 states. Shows have been held in traditional galleries, universities, a jurors' lounge, a park, and other varied venues. Addiction and Art exhibitions have also been a part of 8 national and/or international conferences. We would appreciate learning of any past or future Addiction and Art Exhibitions that do not appear on our site. We will also consult with anyone wanting to host a show - just contact editor@addictionandart.org
(10/19/2013)
---
Addiction and Art Exhibition
Included in Frederick Artomatic 2013
The well attended 2013 Frederick Artomatic included a large exhibition of addiction and recovery related artworks. The Frederick County (MD) Health Department and On Our Own, Frederick along with their community partners sponsored artists from their recovery programs. The colorful result of this collaboration filled many rooms and hallways with thought provoking works. See images from this event Here. Read about Frederick Artomatic at www.ArtomaticFrederick.org.
(10/19/2013)
---
Kane County Drug Rehabilitation Court
Holds 3rd Annual Art and Writing Extravaganza
by
Drug Court Participants
The show was held on October 2, 2013 at the Judicial Center, Jury Assembly Room in Saint Charles, IL.
The Kane County Drug Rehabilitation Court held its 3rd Annual Fine Art and Writing Show at the Judicial Center, in St. Charles, on October 2nd from 3:30 PM to 6:30 PM in the Jury Assembly Room. The artwork and writings are all submitted by current Drug Court participants as well as recent graduates. The art show represents the hard work and healing of the participants, who are all striving to find new outlets and communities. By working with Kane County Drug Court, they commit to make those changes under close supervision for 30 months of intensive treatment in the voluntary program that has graduated 689 participants since its inception.
Addictionandart.org applauds Kane County Drug Rehabilitation Court's efforts to help participants.
More Information is provided in addictionandart.org shows web page HERE
(10/3/2013)
---
Art and Recovery Exhibition
a Success in Sioux Falls, SD
A one night showing and reception for the exhibition "What Recovery Means to You" was a success. 300 people viewed approximately 100 artworks on display. The show was held at the Exposure Gallery, 333 S. Phillips Ave., Sioux Falls, SD on September 3, 2013. Tallgrass Recovery, Face It Together Sioux Falls, Avera, Sioux Falls Art Council, Volunteers of America, Bartels Counseling and Meaningful Medicine all worked together to sponsor the event. You can read about the exhibition here.
(9/28/2013)
---
Addiction and Recovery Artworks
Abound at 2013 Frederick Artomatic
The Frederick County (Maryland) Health Department and On Our Own Frederick, along with their community partners are sponsoring artists from the recovery programs around their community. Hundreds of their works currently appear in the 2013 Frederick Artomatic. The show, located at 117 East Church Street, Frederick, MD runs form September 4 - October 4, 2013.
(9/13/2013)
---
Kids Like Us Program
Tenth Annual
ART SHOW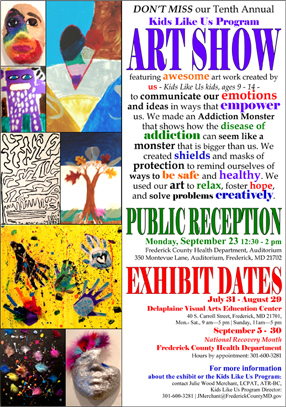 The team at www.addictionandart.org would like to congratulate Julie Wood Merchant (JMerchant@FrederickCountyMD.gov) and the Frederick County, Maryland Health Department as they present their 10th Annual "Kids Like Us" Addiction/Recovery related art exhibition. This year the work will be in two venues: The Delaplaine Visual Arts Education Center (July 31 - August 29, 2013) and the Frederick County Health Department ( September 5 - 30, 2013). Download their colorful flier HERE.
(8/16/2013)
---
CALL FOR ARTISTS
ART and RECOVERY SHOW
Deadline August 31, 2013
Tallgrass Recovery, Sioux Falls, SD 57105
This September, Tallgrass Recovery, Face It Together Sioux Falls, Avera, Sioux Falls Art Council, Volunteers of America, Bartels Counseling and Meaningful Medicine will present the first ever Art & Recovery show to celebrate National Recovery Month. This year's theme will be "What Recovery Means to You". They are looking for artists who have been affected by alcohol and drug addiction; and are actively working towards recovery in their life. The submissions are open to anyone who has been affected by addiction.
Download the CALL TO ENTRY in pdf format
(8/4/2013)
---
addictionandart.org Download Artist
Carrie Napora's Work Featured on Blog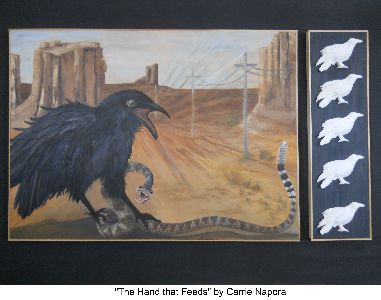 "The Hand That Feeds" by Carrie Nupora and information about www.addictionandart.org appear on the blog Living in Comfort and Joy. The Art of Addiction article by guest blogger Lisa Steward appears HERE.
(7/12/2013)
---
Addiction and Art Book Images
Featured at 2013 NIATx and SAAS Conference
Reproductions of Addiction and Recovery artworks from the book Addiction and Art (Santora, Dowell, Henningfield, Johns Hopkins University Press, 2010) will be featured at the 2013 National Conference of the Network for the Improvement of Addiction Treatment (NIATx) and SAAS, July 14 - July 16. The Conference will be held in San Diego, CA.
(7/12/2013)
---
Addiction and Recovery
Educational Videos and Discussion Guides
A force behind our recent post about the Recovery Art Exhibition at the University of North Carolina (June 21 - August 10, 2013) is Linda Warden of LCW Productions. Warden is a multiple award-winning filmmaker who has produced 3 movies that are educational resources on the topic of substance abuse disorder. Her works are intended to spark dialogue about the topic - a goal of www.addictionandart.org. Question an answer sessions after viewing the films are made easy by discussion guides. You can read more about these films and Warden's work HERE.
(7/12/2013)
---
Recovery Art Exhibition
June 21 - August 10
University of North Carolina
Wilmington, NC 28403
A very successful art exhibition about recovery is currently on display at the Wilmington Randall Library at the University of North Carolina. The exhibition features work from high school and college aged students (14 - 29). The event which includes both artworks and written statements from participants is sponsored by LCW productions, LLC, University of North Carolina and the NC Foundation for Alcohol and Drug Studies. Read more at:
University of North Carolina Website covering the Exhibition.
(7/11/2013)
---
"Art Heals"
Frederick Memorial Hospital Call for Art
The Women's Center at FMH Crestwood Art Gallery
---
AddictionandArt.org Artwork
Included in Article at
Smart Recovery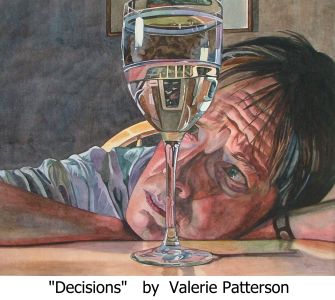 The above Addiction and Art artwork, "Decisions" by Valerie Patterson, was used in a guest post on Smart Recovery, a website supporting addiction recovery efforts. The post, "A Colorful Approach to Addiction Recovery: Creative Arts Therapy" was authored by Joshua Gordon, editor at AddictionAndArt.org partner website All Treatment.
The article is HERE.
(6/5/2013)
---
AddictionandArt.org
is pleased to announce a new partner
All Treatment
All Treatment (www.alltreatment.com) is an experienced, independent team of software editors and Internet search executives now passionately pursuing ways to make treatment and recovery more accessible to anyone struggling with addiction. Based in Seattle, the team is fully committed to helping individuals and families find useful, relevant, and trusted information on addiction and addiction recovery on the Internet. They frequently interview industry professionals, feature addiction stories and run an active blog.
*Editors note: Fueled by passion, this pro-active team has put together a comprehensive list of important resources for any population seeking addiction/recovery information. We are pleased to add All Treatment to our Partners Page
(5/24/2013
---
The Art of Recovery
article in
Highway to Justice publication
The Spring 2013 issue of Highway to Justice includes an article, The Art of Recovery, directly related to the Addiction and Art concept. Highway to Justice is a publication of the American Bar Association (ABA) and the National Highway Traffic Safety Administration (NHTSA). The Art of Recovery was authored by the Hon. Harvey J. Hoffman. In the article Judge Hoffman describes his decision to use art from www.addictionandart.org as a tool in his Michigan drug court and cites successful results! Bravo Judge Hoffman! You can find the article at the following link, scroll down to page 6 once it opens.
http://www.americanbar.org/content/dam/aba/publications/judicial_division_record/13spng_hwtj.authcheckdam.pdf
(4/29/2013)
---
Download Gallery Artwork on Conference Flier
Artworks from our download gallery continue to be utilized around the world. (Thank you Addiction and Art Artists!!!) For example; the Mid-Atlantic Group Psychotherapy Society features "Dezire" by download artist Sakhal Star on the front of their Spring 2013 Conference Flier. You can see the flier and read more about the Society here (http://www.magps.org/conferences/archive/2013%20spring/S13Brochure.pdf).
4/9/2013
---
NIDA Request for Information (RFI)
The National Institute on Drug Abuse (NIDA), part of the National Institutes of Health (NIH), would like to draw your attention to a recent Request for Information (RFI) seeking comments on the research and information needed to support the widespread use of evidence-based drug abuse treatment interventions and practices: http://grants.nih.gov/grants/guide/notice-files/NOT-DA-13-014.html.
This RFI is soliciting input from a variety of key stakeholders to assist NIDA in setting research priorities to enhance the dissemination, implementation, and adoption of evidence-based practices and principles to treat persons with substance use disorders. Specifically, NIDA is seeking input about the types of research and information needed by practitioners and administrators serving individuals with substance use disorders, including those working in general medical and primary care; infectious disease (e.g., HIV and HCV); criminal justice; and specialty care substance abuse and mental health settings.
NIDA hopes to gain a better understanding of how evidence-based substance abuse and addiction treatment services can be better used by those who need them, particularly in the context of health care reform, which stands to broaden access.
All comments should be submitted electronically to: Matthew.Finger@nih.gov no later than March 30, 2013.
3/18/2013
---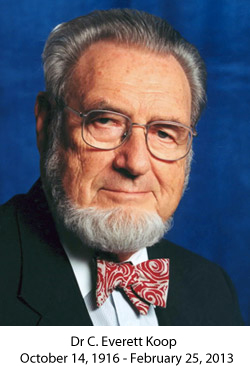 It is with sadness that the team behind www.addictionandart.org acknowledges the passing of C. Everett Koop. Dr. Koop, former US Surgeon General (1981-1989), was a strong supporter of the Addiction and Art concept and served as a member of the Advisory Board for the Addiction and Art book (Johns Hopkins University Press, 2010). During the height of the AIDS epidemic Dr. Koop stood firm, asking Americans to "fight the disease and not those who have it". We honor his memory by encouraging the visitors to our site to "fight substance abuse and not those who are addicted". Thank you, Dr. Koop, for your strength, perseverance and wisdom!
A Link to a biography about Dr Koop.
2/26/2013
---
New Artworks by Kevin Grass Added To Download Gallery
Master Painter Kevin Grass has submitted 2 new artworks to our download gallery. His wildly popular work, "Inheritance" is now joined by "When Good People Do Bad Things" (addressing the horrific trauma of self abuse) and " Consequences" (addressing the enormous impact of substance abuse on loved ones). .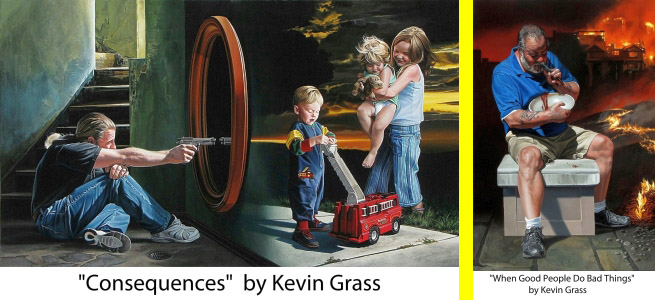 See his work HERE.
Grass has his finger on the pulse of the problem and he utilizes his skill/talent to give his insights form. Bravo Kevin - the world needs these important images! -Margaret Dowell Ph.D, Editor (2/14/2013)
---
National Drug Facts Week
National Drug Facts Week 2013 kicks off Monday, January 28, 2013.
For the first time this year, there are National Drug Facts Week events in EVERY state in the U.S. and nearly 500 events (and counting). Thanks in advance for your help with what is already the biggest and best National Drug Facts Week to date!
Everybody is not doing it! Get the Drug Facts: http://drugfactsweek.drugabuse.gov
We're joining National Drug Facts Week to shatter the myths about drug abuse. Share this post to join in too!
National Drug Facts Week 2013 runs January 28 - February 3, 2013. Go to http://drugfactsweek.drugabuse.gov to find events near you!
Shatter the Myths about drug abuse with the National Institute on Drug Abuse's National Drug Facts Week: http://bit.ly/cdg1yt
(1/28/2013)
---
"Inheritance" by Kevin Grass now in COLOR
"Inheritance", the popular work depicting generational addiction by Kevin Grass is now available to the world in color. Both the black and white and color versions are poignant, technically sound and more than powerful. With these works Grass has visually nailed generational addiction - allowing viewers to "get" the message with just one simple glance. The team at www.addictionandart.org is honored to present this new work by a contemporary master painter. (Note: follow us on facebook for updates on new works coming by Kevin Grass!) -Margaret Dowell, Ph.D., editor.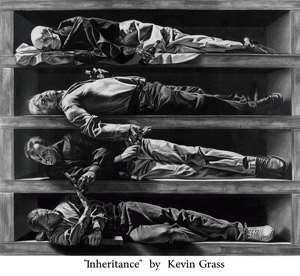 See his work HERE.
Artist's Statement
One of the defining characteristics of manhood in my Midwestern family is the ability to drink a lot of beer. This has, not surprisingly, lead to a great deal of substance abuse which adversely affected the health and life span of several of the men in my family. In this drawing, the previous generations are placed in tombs above me to show how their behavior is pressing down like a heavy weight upon the current generation. Though I was a heavy drinker in high school and college, I began to realize that alcohol was getting in the way of my true addiction - making art. So I guess that you could say that I was able to replace the drinking with a healthy, more socially acceptable "addiction". - Kevin Grass - www.kevingrass.com
(1/11/13)
---