Archive 2019-2020

Welcome to the Addiction and Art Website
2019-2020 Home Page Archive
This page contains news items issued in 2019 through 2020.
Addiction Art Concept. Recent scientific findings have proven addiction to be a disease of the brain, affecting both brain and behavior. Addiction Art has the potential to take this message to the masses, most of whom still consider addiction to be a "weakness" or "moral failing" worthy of punishment. It can convey the human experience of addiction in a way that can help the general public understand addiction as a preventable and treatable chronic disease. Artworks about addiction and recovery can stimulate dialogue, can teach, and at this crucial point in history, can support contemporary scientific research for our world's well-being.
Addiction Art Downloads. This site provides free images for download relating to addiction and recovery. These works are available for use by schools, drug treatment centers, community organizations, addiction science professionals, medical professionals and the general public. These images are generously donated by artists to be shared for the good of mankind.
Addiction Art Exhibitions. Over the past several years Addiction and Art Exhibitions have been held at both professional substance abuse conferences and in local communities. All of these exhibitions have been enormously well received and extremely successful. This site exists to promote the continuation of the Addiction and Art project through the sharing of past exhibitions, providing guidelines for future ones, and offering opportunities for communication and networking.
Addiction and Art Book. Inspiration for the site comes from the book, , Addiction and Art by Patricia B. Santora, Margaret L. Dowell ( www.addictionandart.org editor), and Jack E. Henningfield.
The Johns Hopkins University Press has issued a discount for purchase of the Book.
Click here to download the discount PDF
---
News and Announcements
Science Gallery, Emory University, Atlanta
to Host Addiction and Recovery Exhibition
In 2022
Science Gallery Atlanta will Open with an Interactive Exhibition on Addiction and Recovery in 2022. Submission Deadline November 30, 2020.
The first exhibition for the Science Gallery Atlanta at Emory University will explore the twin themes of addiction and recovery . Creative minds from the sciences and arts are invited to contribute proposals for "Hooked" set to launch in early 2022.
Read the details of the call here: https://sciencegallery.submittable.com/submit/177091/science-gallery-atlanta-hooked-open-call
Science Gallery Atlanta is a part of an The Science Gallery Network a Global Network of leading universities united around a singular mission: to ignite creaivity and discovery where science and art collide. Take a look at the Science Gallery London HOOKED Exhibits and other Science Gallery location exhibits for inspiration.
11/26/2020
---

(9/2/2020)
---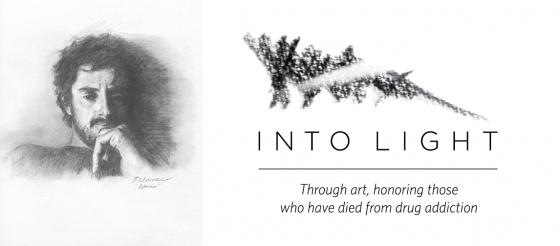 Into the Light
October 28 - November 22, 2019
Gormley Gallery
Notre Dame of Maryland University
"Into the Light" documents through personal portraits the tragic loss of human life caused by the drug addiction crisis in Baltimore. The exhibit features 40 portraits by artist Theresa Clower who lost her own son to an opioid overdose. Gormley Gallery is located on the second floor of the University's Fourier Hall,4701 North Charles Street, Baltimore, Maryland.
Read about the exhibit and related events here: https://www.ndm.edu/colleges-schools/school-arts-sciences-business/art-department/gormley-gallery
(11/6/2019)
---
HeART and Mind
November 3, 2019 - January 20, 2020
Silvermine Arts Center
New Canaan, Connecticut
The HeART and Mind Exhibit and accompanying programs are expected to engage the community in conversations about mental health, including aspects of addiction and recovery. Read about events HERE: https://silvermineart.org/exhibition/heart-mind/
(10/31/2019)
---
Art of Recovery - Let's Art About It
October 26, 2019
25 South Lansdowne Avenue
Landstowne, PA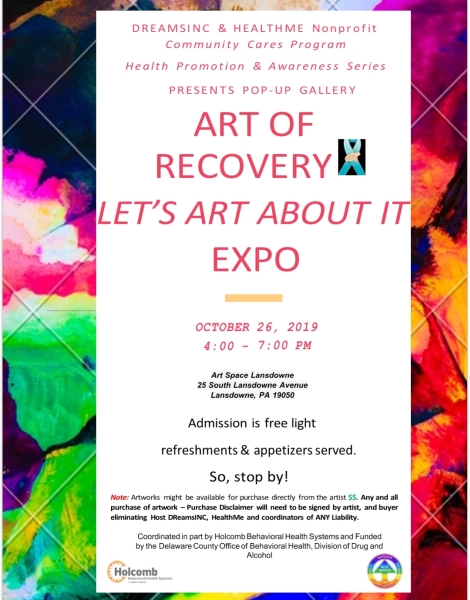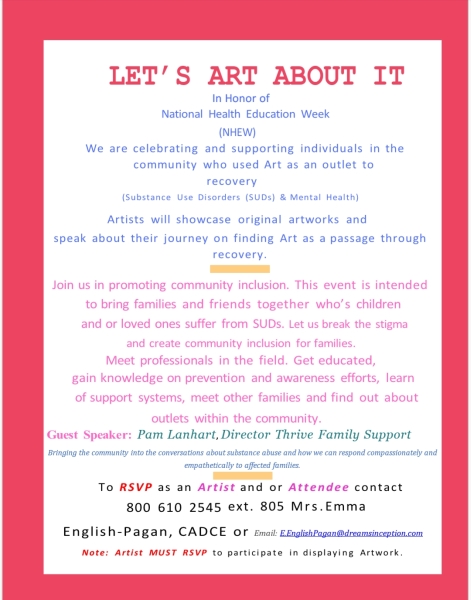 A multifaceted event showcasing artworks by artists who have used Art as an outlet for recovery (substance abuse and mental illness) Read more here .
(10/18/2019)
---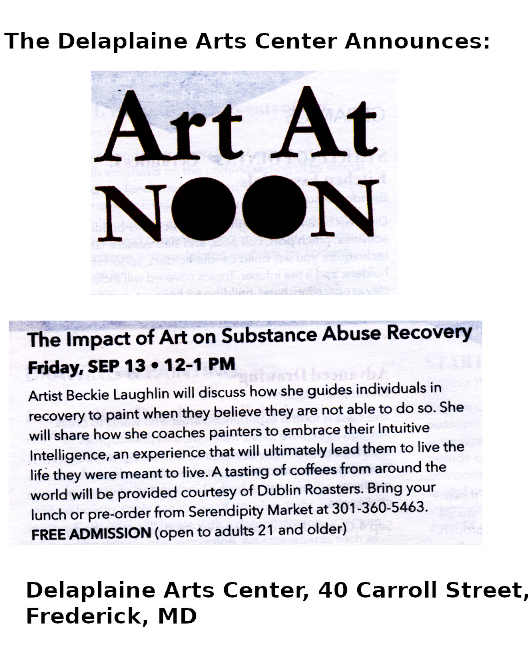 (8/23/2019)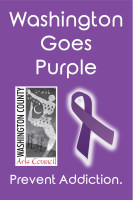 2019 Washington Goes Purple
Call for Artists

Deadline: July 26, 2019

The Washington County Arts Council, Inc. (WCAC) and Washington Goes Purple invite local artists working in any medium to submit their art for a September 2019 exhibit, "Purple Haze: Selective Perception." The juried community art exhibit will run from August 29, 2019 through October 1, 2019 with an opening reception on Thursday, August 29, 2019 from 5pm to 7pm. The exhibit, "Purple Haze: Selective Perceptions", strives to build awareness in our communities to "stand against substance abuse."
Artists are encouraged to submit up to three entries with the Call/Guidelines/Entry Form. Washington County Arts Council
(7/16/2019)
---
4th Annual Heroin and Opioid Art Exhibit and Competition
Newark, NJ
Deadline: April 15, 2019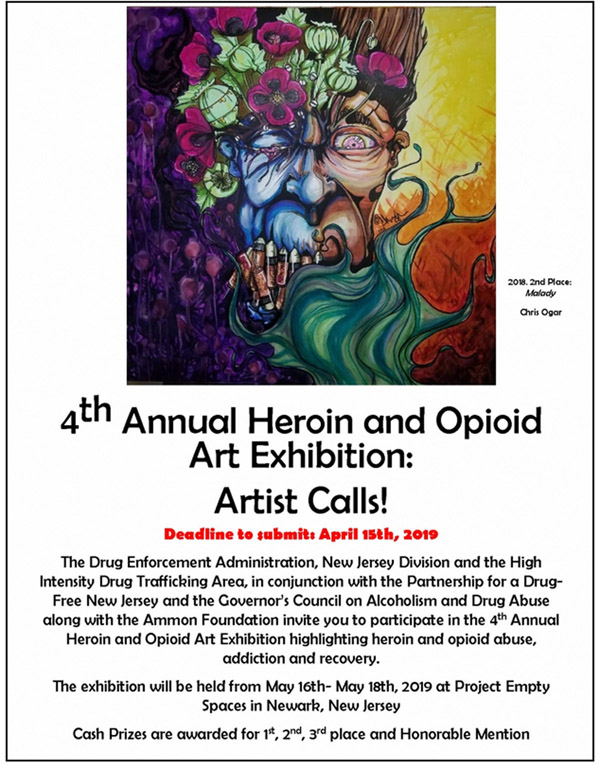 3/10/2019
---
Art Contest and Exhibition
April 1 - 30, 2019
Frederick Community College, MD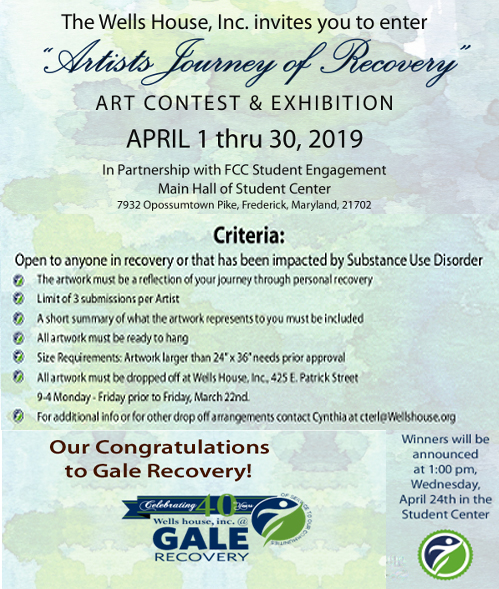 Click HERE to download a 12x18 inch poster.
(4/4/2019)
---