Last Update: June 16, 2017
Shows

Welcome to the Addiction and Art Website
If you wish to publicize your event or art show for the addiction and art effort please send an email to editor@addictionandart.org, with all the information someone would need to find your event or a link to a website that has the event information.
Upcoming Addiction and Art Shows
Watch this page for future show information
and links to calls for artists.
---
Call for Artists
New Jersey Residents
Heroin and Opioid Art Exhibition
Deadline July 17, 2017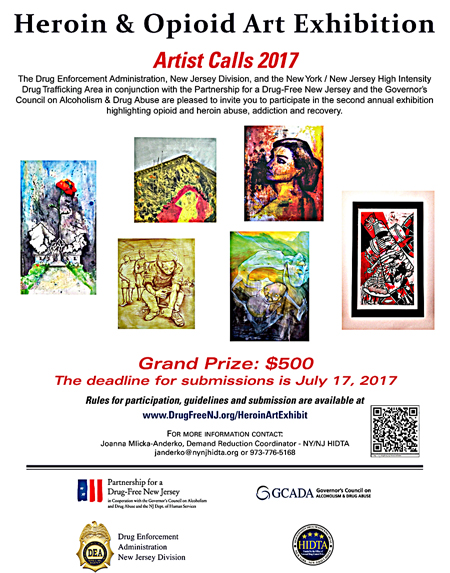 The Drug Enforcement Administration, New Jersey Division, and the New York / New Jersey High Intensity Drug Trafficking Area in conjunction with the Partnership for a Drug-Free New Jersey and the Governor's Council on Alcoholism & Drug Abuse are pleased to invite you to participate in the second annual exhibition highlighting opioid and heroin abuse, addiction and recovery.
See submission form here www.DrugFreeNJ.org/HeroinArtExhibit
Download poster here
(6/16/2017)
---
Behavioral Health Awareness Art Show
State House, Annapolis, MD
Reception: Monday, April 24, 5:00-7:00 PM
April 24 - 28, 2017
Hosted by the First Lady of Maryland, Mrs. Yumi Hogan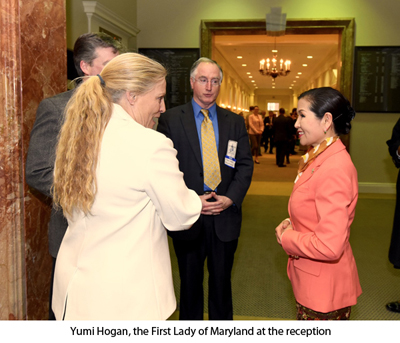 Yumi Hogan, the First Lady of Maryland hosted a well attended Behavioral Health Awareness Art Show at the Annapolis State House on April 24. The art and activist activities of 20 artists were honored including 3 of www.addictionandart's download gallery artists (Linda Hubshman, John Wise and Margaret Dowell). The following State Agencies and Non-Profit Organizations were involved in planning the exhibition: the Department of Health and Mental Hygiene's Behavioral Health Administration, the Maryland Department of Disabilities, the Maryland State Arts Council, the Mental Health Association of Maryland, the National Council on Alcoholism and Drug Dependence of Maryland and the New Day Campaign.
(4/26/2017)
Archive of Addiction and Art Shows
A list of Past shows and, if available, links to the Shows.
---
Community Supported Shows
The list is organized first by State then by Date of show.
---
Conference Supported Shows
This list is organized by Date.