Last Update: March 8, 2011
Curriculum Guidelines

Welcome to the Addiction and Art Website
Throughout its history, Art Education has been influenced by societal needs and values. As more and more of our young people either experiment with drugs or are exposed to substance abuse in their homes and/or communities it is appropriate to generate and make available curriculum guides to facilitate the education of our youth on the topics of addiction (all kinds) and recovery.
The language of art is both flexible and powerful. Art Educators understand that art can allow students to successfully interact with the world in both verbal and non-verbal ways, and that it can promote significant understanding.
AddictionAndArt.Org promotes the following Curriculum Guide to be considered for adoption by public schools, private schools, home schools, and any other setting where an art lesson can take place. The guide can be adapted to coincide with local goals and resources.
Putting a Human Face on Addiction and Recovery
Curriculum Guide K - 12 for Art Educators and Guidance Counselors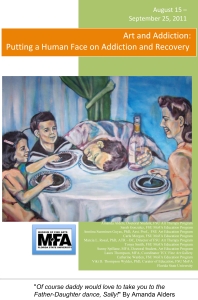 Museum Education Program
Florida State University Museum of Fine Arts, 2011
Click this button to: the Guide in PDF format.
(Note: this is a 23 Megabyte download)
This curriculum guide approaches the subject matter in a way that is adaptable and appropriate to all age groups, from grades K-5 to grades 6 -12. It includes informational articles, lesson plan suggestions, a glossary and sample artworks. The guide is a product of Florida State University and all materials are in accordance with the current Florida Sunshine State Standards. The guide was created to coincide with an Art and Addiction Exhibition at Tallahassee Community College in 2011; however, it's contents may certainly be utilized by schools anywhere, at any time.
Art and Addiction Curriculum Guide Committee:
Amanda Alders, Doctoral Student, FSU Art Therapy Program
Sarah Gonzalez, FSU MoFa Education Program
Anniina Suominen Guyas, PhD, Asst. Prof., FSU Art Education Program
Carla Morgan, FSU MoFA Education Program
Marcia L. Rosal, PhD, ATR - BC, Director of FSU Art Therapy Program
Tonya Smith, FSU MoFA Education Program
Sunny Spillane, MFA, Doctoral Student, Art Education Program
Laura Thompson, MFA, Coordinator TCC Fine Art Gallery
Catherine Warden, FSU MoFA Education Program
Viki D. Thompson Wylder, PhD, Curator of Education, FSU MoFA
(3/8/2011)
---