Last Update: November 19, 2013
Contact Us

Welcome to the Addiction and Art Website
Addiction Art Concept. Recent scientific findings have proven addiction to be a disease of the brain, affecting both brain and behavior. Addiction Art has the potential to take this message to the masses, most of whom still consider addiction to be a "weakness" or "moral failing" worthy of punishment. It can convey the human experience of addiction in a way that can help the general public understand addiction as a preventable and treatable chronic disease. Artworks about addiction and recovery can stimulate dialogue, can teach, and at this crucial point in history, can support contemporary scientific research for our world's well-being.
Addiction Art Downloads. This site provides free images for download relating to addiction and recovery. These works are available for use by schools, drug treatment centers, community organizations, addiction science professionals, medical professionals and the general public. These images are generously donated by artists to be shared for the good of mankind.
Addiction Art Exhibitions. Over the past several years Addiction and Art Exhibitions have been held at both professional substance abuse conferences and in local communities. All of these exhibitions have been enormously well received and extremely successful. This site exists to promote the continuation of the Addiction and Art project through the sharing of past exhibitions, providing guidelines for future ones, and offering opportunities for communication and networking.
Addiction and Art Book. Inspiration for the site comes from the book, , Addiction and Art by Patricia B. Santora, Margaret L. Dowell ( www.addictionandart.org editor), and Jack E. Henningfield.
Contact Us
---
Send us your:
Comments, feedback, site suggestions.
Questions.
Announcements about any upcoming Addiction and Art exhibitions or related activities.
Documentation of your use of the Addiction and Art concept in treatment programs, exhibitions, classrooms, communities, etc. Include appropriate news articles, photos, etc.
Comments about issues relating to developing and holding Addiction and Art shows.
Links to related sites.
Artworks to share in our download gallery.
We will answer as many Emails as we can and post those that will help others.
---
We reserve the right to reject any article if it does not meet our standards.  We also reserve the right to edit any article to fit the website or to meet our standards before publication. 
People behind the scenes at
---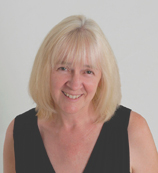 Organizer and Inspiration: Dr Margaret Dowell is a Maryland based artist, educator and co-editor of the Addiction and Art book.  In 2008, she helped to organize the first community based Addiction and Art Exhibition at Carroll Community College, Westminster, MD.  Recognizing the power of Art to generate meaningful dialogue leading to positive transformations, Dowell is currently contributing time and energy to the evolution of community based Addiction and Art endeavors.  Her personal artwork may be viewed at www.margaretdowell.com.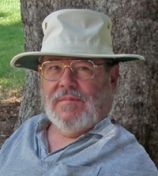 WebMaster: Don Dunsmore is a Maryland based computer consultant and part time photographer.  He became aware of the Addiction and Art project in June of 2010 when Dr Dowell asked him to help promote the Addiction and Art Show at the Blue Elephant Gallery in Frederick, Md.  Like many others, the idea of helping people  combat addiction through art programs clicked with Don.  He and Dr Dowell decided to set up the addictionandart.org website late in July 2010 and the rest is history.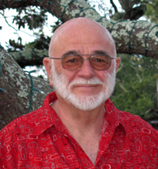 Quality Control: Jeff Barnum is an Alabama based retiree. During his career in adult education, he designed, produced, and delivered training programs on subjects ranging from operating nuclear power plants, to repairing machinery. He, and several members of his family, have benefited from organized addiction treatment. He hopes, in some small way, his contribution to the Addiction and Art website is a payback to the community which supported him and his loved ones in their time of need.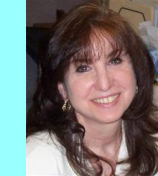 Art and Therapy Consultant: Rena Larkin has over 20 years of experience in addiction counseling. Her experience includes being the owner/operator of an Outpatient Treatment Program for adults, and creating a Guidelines Counseling Program. She is also a co-founder of the Frederick County Art Association and is currently a member of the Frederick County Arts Council and Festival of the Arts. Her specialties include: Counseling for substance abuse issues, co-dependency, COA, ACOA and family issues coping with substance abuse.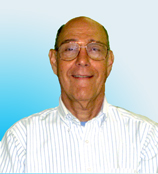 Videographer: Lou Hubshman spent his working years as a graphic artist and photographer. At the same time, he and his wife also owned and operated a video production company, producing training videos for numerous clients, events, and training activities. Now in "semi-retirement", Lou is a local videographer who contributes his expertise to addictionandart.org by producing video recordings of various events in which the site is involved.
---
EVENTS IN THE LIFE
OF THE
ADDICTION AND ART WEBSITE
---
July 31, 2012
www.AddictionAndArt.Org Celebrates 2 years on the Web!
As we celebrate two years on the web this month, as well as an ever growing number of site visitors, it is appropriate and with great pleasure that I post the following artwork by Don Dunsmore. Don is the invaluable force behind www.addictionandart.org, serving as our brilliant webmaster since the site's conception. During this time, Don has absorbed what artists from around the world have generously shared with us. His work, Recovery Road, is a visual result of both his recent immersion in the world of substance abuse education and his innate positive personality. -- Dr Margaret Dowell, Editor, AddictionandArt.org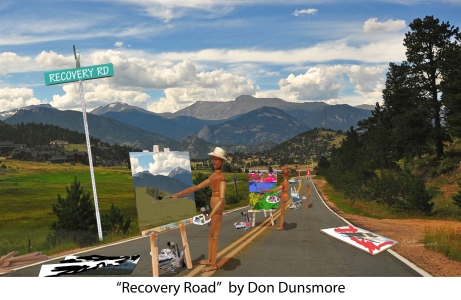 Don's Statement about "Recovery Road":
In the world of addiction, "Recovery" does not mean that you are "over" your addiction like one gets "over" an operation, or cold, or measles. My two years of working on the addictionandart.org website, and visiting with people who are "In Recovery" from their personal addiction, has taught me this hard fact. Recovery from addiction means the struggle with the addiction starts every morning and goes on through the day; it is never ending. The addict needs something to replace the substance that is his/her addiction, and making art is one such replacement.
"Recovery Road" is a tribute to those people who are engaged in the struggle to overcome their personal addiction and free themselves from the addiction's effects. The picture contains several symbols that represent this struggle, the main one being a road that disappears in the distance, implying a never-ending process. I hope the image will bring home to those who might not otherwise understand that recovery from addiction, no matter the substance, is not instantaneous. Most addicts, even those who have been clean and sober for many years, still describe themselves as "Recovering". -- Don Dunsmore (7/24/2012)
---