Last Update: January 30, 2011
Show Archive-09 Addiction and Art at Artomatic@Frederick

Welcome to the Addiction and Art Website
Addiction and Art Show Archive
A compilation of information about past shows.
---
Addiction and Art Show
at
Artomatic at Frederick
Frederick, MD from 9/28/2011 thru 11/6/2011
---
Addictionandart.org a part of Artomatic@Frederick

The Artomatic@Frederick ran from September 28 through November 6, 2011. Over 300 artists participated bringing hundreds of Art Exhibits, Musical Performances, Theatrical Performances, Film Screenings, Poetry Readings, Open Mic Events, Student Art & Performances, Dance, and much, much more. addictionandart.org participated in the show with a display of addiction related art. The show was at 115 E. Church Street, Frederick Maryland (the former Frederick County Public School Board Central Office building). Artomatic@Frederick drew over 10,000 visitors in 6 weeks.
Website: http://www.artomaticfrederick.org/
---
To those who support us...
AddictionAndArt.Org would like to thank the directors of Artomatic for their extraordinary support of our mission.
We at addictionandart.org are also grateful to the artists who so generously provided artworks for the Addiction and Art show. A special thanks to those who helped us prepare the room and hang the show.
www.AddictionAndArt.Org would like to thank Dr. Nora Volkow and the staff at the National Institute for Drug Abuse (NIDA) for providing a variety of education/prevention literature to distribute during the run of this exhibition.
---
Addictionandart.org thanks Lou Hubshman, Video Visions of Maryland for his wonderful work and willingness to share this video.
---
A six slide tour of the Addiction and Art Show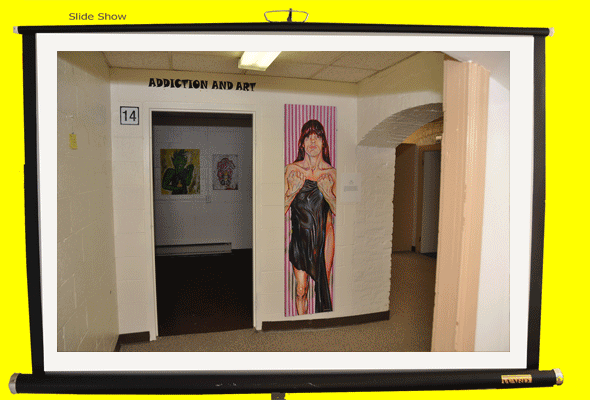 ---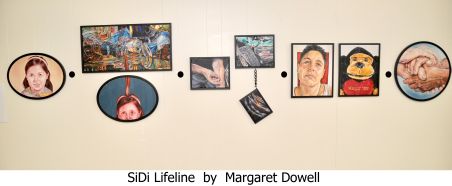 ---
Ten Artists contributed to create a fine show.
The links are to the artists contributions to this website.
---
The Addiction and Art show was reviewed by the Frederick News Post in the "72 Hour" FNP magazine. A link to the article is here.
---
The Addiction and Art show displayed basic information about the program in four large yellow blocks, shown below.
---
POET
A poet purportedly living in Lowdown County, BraSh, attended the Artomatic show at Frederick and wrote poems for all of the artists. An example of BRASH's work is in the PDF below. A PDF is used because the poems even have musical tones (created by Grunge, BraSh's partner in this) that go with the words and in order to get the tones right they must be positioned precisely with the words in the poem. Read this blog for a complete explanation of the music for BraSh's poetry and Grunge's music.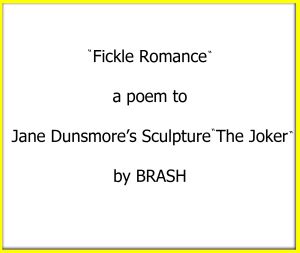 BraSh also brought the hamper shown below: "The hamper was modpodged for me by Alana Maubury Hunter using images from previous AOMs (Artomatic Shows). She is a master calligrapher and runs Gallery 141 in Lancaster PA and the Feathertree Calligraphy Yurt at Glen Echo Park. She is a very dear friend, but she intended for me to WEAR that hamper around my neck, so that I would have something to write on, and apparently so that I wouldn't call any attention to myself at all....BraSh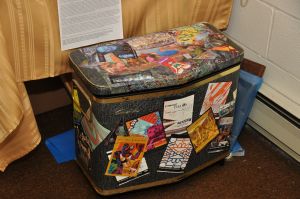 ---
---