Last Update: April 17, 2014
Show Archive-03 - Veterans Park, Florida

Welcome to the Addiction and Art Website
Addiction and Art Show Archive
A compilation of information about past shows.News and other information
---
FREEDOM FROM BONDAGE
An Exhibition of Addiction and Recovery in Art
July 30 & 31, 2010 7-10 PM
August 1, 2010 12-4 PM
Veterans Park Center
802 NE First Street
Delray Beach, Florida
---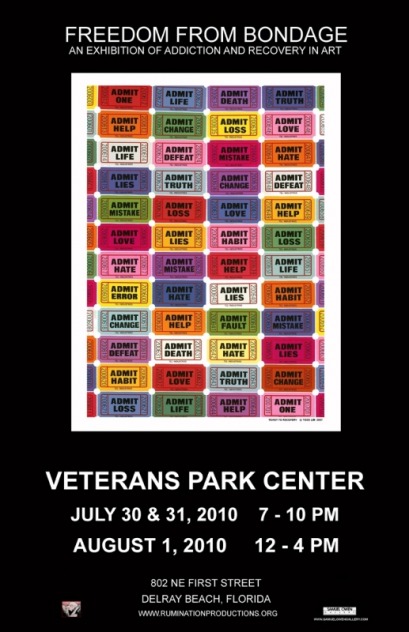 Image furnished by Rumination Productions, Inc.
---
NOTE: We can no longer find the server for www.ruminationproductions.org. So links that were provided in the original entry for this show have been removed. We applaud the efforts by the people who did all the work to create an addiction and art show. (4/17/2014
This is how Rumination Productions, Inc. describes their show:
We created a small poster (above) as a flier to put up in shop windows around town. Then we printed a larger, high quality version of the same poster to offer as a gift for donations at the door. The title of the piece is Ticket To Recovery, and credit should be given to artist, Todd Lim, Samuel Owen Gallery, www.samuelowengallery.com.
We are a group of four friends that put on the show using your guidelines, and we learned so much. First we created a non-profit corporation called Rumination Productions, Inc. so that we could receive donations. Our show was a three day (weekend) event which included an opening reception, a dance, and a cookout/outdoor art festival. We estimate that we had about 800 in attendance, a huge success. We received endless expressions of gratitude from artists, many who were inspired to start working again, and from the guests at the show.
Each piece is cataloged under Submissions with the artists name and a personal description of their work.
Visit our Facebook Page, Rumination Productions or Rumi Nayshun. Go to the profile and view the photo albums of the show.
The poster is available for sale at www.samuelowengallery.com.
---
This is a reproduction of the events page at ruminationproductions.org:
FREEDOM FROM BONDAGE
AN EXHIBITION OF ADDICTION AND RECOVERY IN ART
Inspired by the "Innovators Combating Substance Abuse National Program" at The Johns Hopkins University School of Medicine and the recent publication of the Johns Hopkins Press' book, Addiction and Art, we are pleased to announce an art exhibition.
Freedom From Bondage: An Exhibition of Addiction and Recovery in Art is a juried art show that will premier for a three day event at The Veterans Park Recreation Center during the last weekend in July 2010.
With guidance from the Innovator's Program, a group of friends has formed Rumination Productions, Inc, a non-profit organization. Our purpose is to promote the use of art as a compliment to addiction science in understanding, preventing, and treating the disease of addiction.
Addiction is one of the major health issues of our time and its costs are untold. The purpose of this art exhibit is to put a human face on the many forms of addiction and on the joys of recovery through the creative works of individuals whose lives have been touched. Local artists have been invited to submit original works and the response has been met with great enthusiasm. We are proud to support this project and to showcase these talented and dedicated artists.
---
There are two more pages in the ruminationproductions.org website::
A page with entries submitted to the show. Artwork is presented as well as artist comments.
The site has a forum page for comments/news, etc.
---
AddictionandArt .org thanks Rumination Productions, Inc. for their generosity
in sharing information about their show. They had a tremendous turnout of 800 people.
---
---