Last Update: January 25,2012
Show Archive-02 - Blue Elephant, Frederick MD

Welcome to the Addiction and Art Website
Addiction and Art Show Archive
A compilation of information about past shows.
---
Addiction and Art Show
Blue Elephant Gallery
Frederick, Md
June 19 - July 3, 2010
---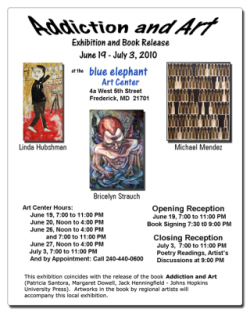 The Addiction and Art Show Banner
for June 19 thru July 3, 2010
Pictures from the Opening Reception
June 19, 2010
at the blue elephant gallery
in Frederick, MD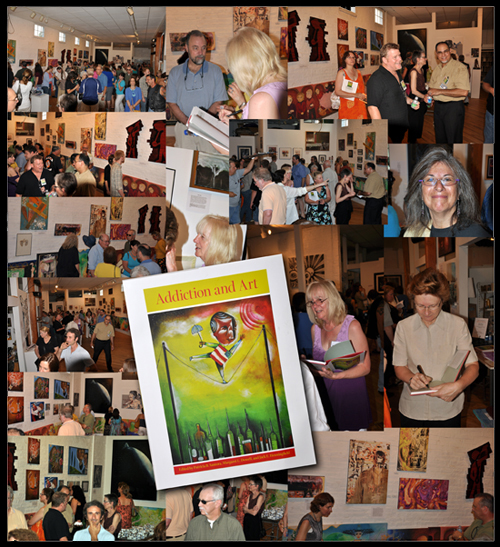 As you can see the opening reception was a success.
---
The cover art on the book was created by
Pedro de Valdivia
Seattle, Washington
---
An excellent article about the book
Addiction and Art:
Healing Art by Mat Edelson
Johns Hopkins Magazine
June 2, 2010
can be found at:
http://magazine.jhu.edu/2010/06/healing-art/
---
Lou Hubshman's video of the Reception
Addiction and Art.Org Thanks Lou Hubshman, Video Visions of Maryland for his wonderful work and willingness to share this video.
(1/25/2012)
---
Blog on Addiction and Recovery
talking about Blue Elephant and show effort.
http://guineveregetssober.com/?p=357
This blogger is planning a review of the
Addiction and Art book.
---
Forty-three Artists participate in the
Addiction and Art Exhibition
at the blue elephant
June 19 thru July 3, 2010
Seven Artists
with work in the show
and in the
book:
Michael Mendez - Martinsburg,WV
Scott Brooks - Washington DC
Joseph Barbaccia - Potomac Falls, VA
Karen Swenholt - Falls Church, VA
Bricelyn Strauch - Baltimore, MD
Linda Hubshman - Ijamsville, MD
Tom Hill - Brentwood, MD
Thirty-five
Artists whose work
was selected
by the Jurors:
Susan Greene - New Market, MD
Calvin Edward Ramsburg - Frederick, MD
Jessie Ruddie - Frederick, MD
Kat Larkin - Frederick MD
Johan Lowie - Frederick, MD
Geraldine Lloyd - Frederick, MD
Terry Neal - Frederick, MD
Andy K. Altmann - Frederick, MD
Alyssa Florwick - Frederick, MD
Matt Walsh and Frances Tarkett - Pittsburg, PA
Marion S. Aaron - Westminster, MD
B. Lafoon - New Market, MD
Kate Baasch - Silver Spring, MD
Matt Long - Frederick, MD
Gail Elwell - Westminster, MD
Zack Hanie - Mt Airy, MD
Tiffani Barner - Manchester, MD
Patt Gateley - Mt Airy, MD
Xine Conko - Monrovia, MD
Terri Fabula -New Windsor, MD
Christina Collins-Smith - Cumberland, MD
Scott Gore - Dillsburg, PA
Beth Krynick - Finksburg, MD
Marie Maccabee - Sabillasville, MD
Willie Schaefer - Owings Mills, MD
Cameron Bauer - Middletown, MD
Amy L Svec - Littlestown, PA
Veronica Moore - Westminster, MD
Chris Bransome - Frederick, MD
Deb Clark - Frederick, MD
Mr. Ed
Anne Quinlan
Claudia Lipschultz
Taurean Washington
Charlie Barton
---
BRASH
at the
Addiction and Art Show
BRASH wrote a poem for every artist in the show and posted them in the gallery.
Some of the poems were performed as simple lyrics at the show's closing.
---
---