Last Update: October 29, 2014
Show Archive-19 "Visualizing Addiction and Recovery" Lawrenceburg, Indiana September, 2014

Welcome to the Addiction and Art Website
Addiction and Art Show Archive
A compilation of information about past shows.
---
Visualizing Addiction and Recovery
Citizens Against Substance Abuse
Lawrenceburg, Indiana
September 13 - 14, 2014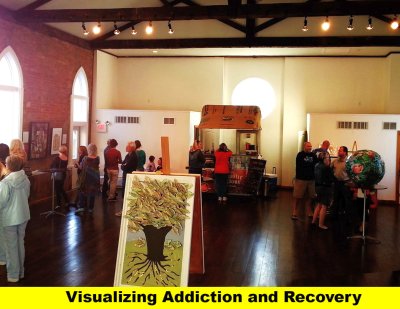 Recognizing that Addiction and Recovery are experiences that can be hard to put into words CASA (Citizens Against Substance Abuse) and Adam's Art Supply Company of Lawrenceburg, Indiana sponsored an addiction and recovery exhibition.
Adam Gilliam who owns Adams Art & Supply www.adamsartandsupply.com provided support for the show. Adam also works with a local recovery program on group projects: "World of Recovery", "Tree of addiction", "Tree of Recovery".
There were 95 attendees on Friday, 62 attendees on Sunday for a total of 157. They left 38 comment cards all of which were positive.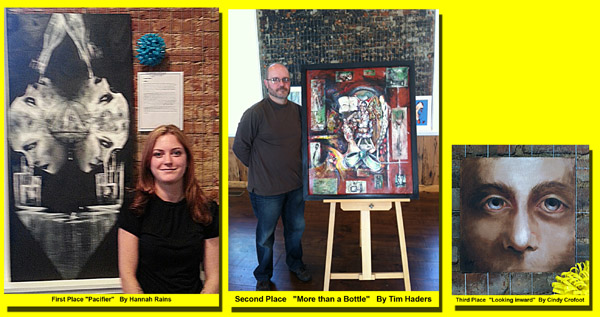 Winning Artworks:
First Place "Pacifier" By Hannah Rains
Second Place "More than a Bottle" By Tim Haders
Third Place "Looking inward" By Cindy Crofoot
The second place winner, Tim Haders, donated his prize money to CASA. Two artists, Brewstir & Pour donated their tip jar to CASA both nights. Artists Lani Valas and Patrick Mulvaney Donated their artwork to CASA.
A PDF copy of the call for this addiction and art show can be downloaded HERE.
(10/29/2014)
---
---