Last Update: November 30, 2011
Show Archive-08 2011 Drug Addiction and Recovery Show, Florida

Welcome to the Addiction and Art Website
Addiction and Art Show Archive
A compilation of information about past shows.
---
Drug Addiction and Recovery
Tallahassee Community College
and
Museum of Fine Arts
Tallahassee, Florida, 9/2/2011
---
A PDF slide show that documents the art work in
the "Drug Addiction and Recovery" show. (4.6 MB file)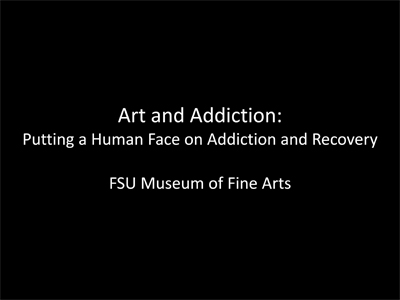 ---
A promotional Video by Amanda E.M. Alders Ph.D. Candidate
for the Art And Addiction Show at
Tallahassee Community College featuring K-12 students.
---
Schedule of events and requirements set in 2010 for the 2011 show:
Tallahassee Community College joins forces with the Museum of Fine Arts in Tallahassee during August of 2011 to present an Addiction and Art show. The TCC show will be directed towards school age children.
The art exhibition theme is Drug Addiction and Recovery. The content of artwork should be a narrative of, reflection upon, or expression about some aspect of this theme. Jurors are particularly interested in seeing the human side of addiction and recovery. Artworks will be judged based upon how effectively, clearly, and expressively the theme is explored.
Critical Dates:
Entry Deadline (Postmarked Date): December 1, 2010
Notification of Acceptance E-mailed: February 25, 2011
Deadlines for Loan Forms: April 1, 2011
Deadline for Delivery of Accepted Artworks: July 1, 2011 (10-3 P.M.)
Exhibition Opening / Video Interview: Artists: September 2, 2011 (Revised Date)
Exhibition closes: September 26, 2011 (Revised Date)
---
---