Last Update: October 28,2010
Show Archive-01 -  Westminster, MD

Welcome to the Addiction and Art Website
Addiction and Art Show Archive
A compilation of information about past shows.
---
The first Community Based Addiction and Art Show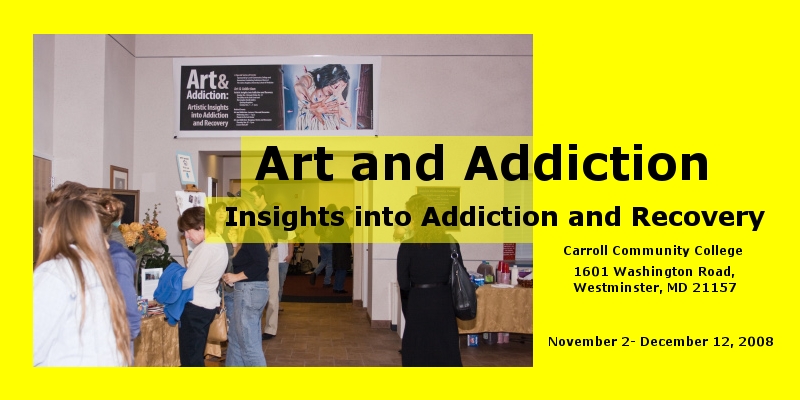 ---
For the first time, in November of 2008, the Innovators Program extended their Addiction and Art conference exhibitions to the next level using the concept of community based exhibitions. They collaborated with the leadership of Carroll Community College in Westminster, MD with the goal of educating the broader community about preventing and treating addiction. The Innovators' model was expanded to include art created not only by established artists but also by emerging student artists in high school and college. Response to this exhibition resulted in a groundswell of interest from the community. Unprecedented crowds and constant media attention ignited widespread curiosity, and diverse community groups of all ages visited the campus daily to see the artwork during the six-week exhibition period. A summary of the show's rationale and success in meeting an unmet educational need among students, faculty and the community at large appears in the following article, Art Used as Tool in Fighting Substance Abuse on Maryland Campus, which appeared in Community College Week (November 16, 2009, Volume 22, No. 7):
The Carroll Community College Show was spearheaded by Visual Art Chairperson, Maggie Ball. It was enthusiastically supported by Administrators: Dr. Faye Pappalardo (President), James Ball ( Vice-President), Steven Geppi (Dean) and Scott Gore (Chairperson of the Visual and Performing Arts Department). Faculty members contributing work to this exhibition included: Willie Schaefer, Christina Collins-Smith, Gail Elwell, Scott Gore and Margaret Dowell.
---
(Editor's note: The information about this show was taken
from Carroll Community College "Fall 2008 The Arts at Carroll" brochure.)
---
A Collaboration between Carroll Community College and the Innovators Combating Substance Abuse at The Johns Hopkins University School of Medicine.
All events open to the public.
Event 1: Fresh Air Box Project
Monday, October 20, 2008
Artist Debbie Clark will be working with Carroll Art Students to create art objects that double as smoking cessation kits. Completed boxes will be displayed/available at Art and Addiction events. Clark, the mastermind behind this unique project, is a member of Frederick's Blue Elephant Gallery.
Event 2: Regional Juried Art Exhibition-Insights into Addiction and Recovery
November 2 - December 12,2008 Langdon Gallery
Reception: November 2, 2008 2:00-4:00 P.M.
The purpose of this exhibition is to provide a stimulus to change the way America views addiction by using the visual arts to put a human face on addiction and recovery. The artists and addiction scientists behind this show believe that creativity and artistic expression can play a significant role both in recovery and in raising awareness of the personal toll caused by substance abuse and addiction.
Editors Note: the Art displayed at the show was organized into three parts, works by Professional Artists, works by College Students and works by High School Students.
Event 3: Lecture and Discussion
November 5, 2008 7:00 P.M. at the Theater in the Scott Center
Speakers included Dr. Patricia Santora and Dr. Margaret Dowell who will discuss the importance of using the arts to emphasize the need for alcohol/drug treatment.
Event 4: Movie and Discussion, "Basquiat"
November 20, 2008 7:00 P.M. Lecture Hall, L287
Julian Schnabel's film about the life of Jean-Michel Basquiat, a young artist and drug addict whose graffiti and neo-expressionist work to the New York Art Scene by storm in the 80s. Jeffrey Wright stars as Basquiat and David Bowie stars as Andy Warhol.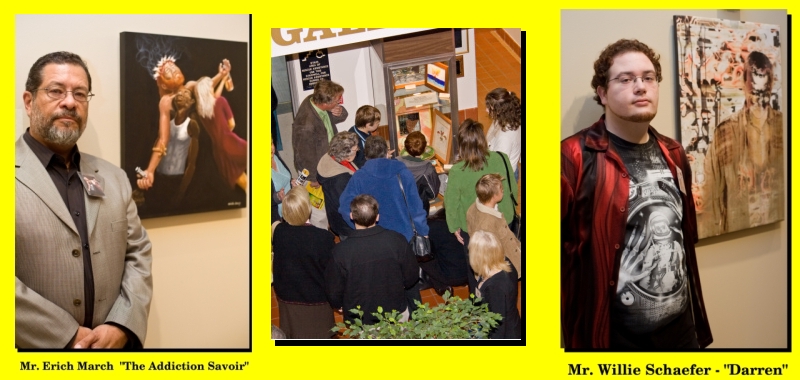 ---
---